---
When drivers need a Mercedes-Benz brake repair near Boise, Nampa, or Meridian, they stop by the service center here at Mercedes-Benz of Boise. We know that brakes play an important role in ensuring your safety and maintaining the optimal performance that you've come to enjoy.
You probably know that the brakes bring your vehicle to a halt, but do you know how they work? Do you know how to identify potential problems that signal that you may need a brake repair? Below, you'll find answers to all your questions!
Do You Need A Brake Repair?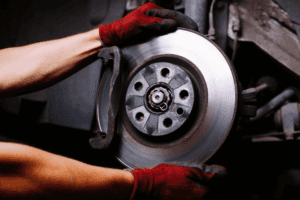 Once you know what to look for, it will be easy to determine when it's time for a brake repair. If you notice any of the following signs, bring your Mercedes-Benz to our service center for an inspection.
1. Worn brake pads. In some cases, you can see your brake pads through the spokes of your wheels. The brake pad will be pressed against a metal rotor. If they're visible to you, check them for wear.
While most brake pads last for 50,000 miles, this number can vary based on your driving habits. If you see less than a quarter inch of pad, you may want to schedule a brake repair.
2. Vibration. Warped rotors may cause a vibration in your brake pedal. It will feel like the feedback given by an anti-lock braking system.
When this occurs, a trained technician will usually recommend replacing the rotors. You could have them turned. This process will smooth them out so they can provide the stopping power you need.
3. Grinding or growling noises. Listen for a loud, metallic grinding or growling noise. If you hear this sound when pressing the brake pedal, there's a good chance that the brake pads have worn down completely.
The noise is created by the disc and caliper as they rub against one another. To ensure your safety, you'll want to schedule a brake repair as soon as possible.
4. Pulling. If your vehicle pulls to one side when you apply the brakes, it could mean there's foreign matter in the brake fluid.
When you bring your Mercedes-Benz to a trained professional, they'll be able to remedy this problem by bleeding the brakes. You'll be back out on the road in no time!
An Inside Look at Your Brakes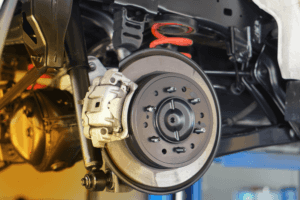 Understanding what's involved to bring your vehicle to a stop is important. This knowledge will help you be better prepared for a potential Mercedes-Benz brake repair.
When you press down on the brake pedal, the force of your foot is multiplied through hydraulic pressure. This pressure uses the calipers to push the brake pad against the rotor. This process generates a massive amount of friction to slow the rotation of the wheels.
Now, you may be asking, what's a brake pad made of? While there are different varieties, metallic brake pads are most commonly used in modern vehicles. Made from a mixture of iron, copper, and steel, they're responsive enough for everyday driving and tend to last longer than other varieties.
Schedule a Brake Repair Today!
If you're in need of a brake repair near Boise, Nampa, or Meridian, stop by the service center at Mercedes-Benz of Boise. You can also browse our list of service specials online. There may be one available that adds even more value to the maintenance your vehicle needs!